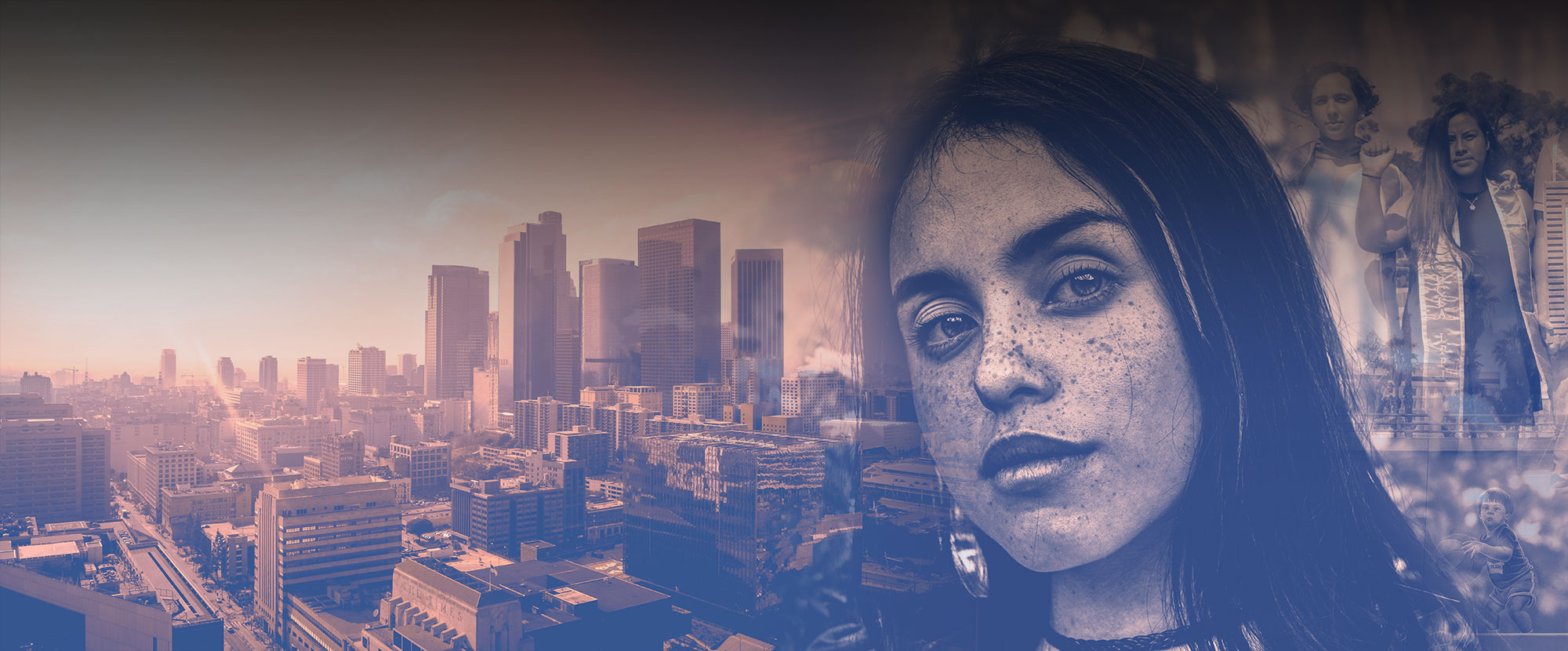 Leadership
UCLA LPPI invests in civic leaders determined to make an impact by exposing students to the policy challenges of today with the research training necessary to inform a better tomorrow.
Overview

UCLA LPPI is building a leadership pipeline by exposing students to the policy challenges of today and providing the research training necessary to inform a better tomorrow.
Policy Fellowship Program

UCLA LPPI is a local organization with national reach, providing UCLA students with the unique opportunity to engage with leading civil rights groups, elected officials, philanthropic leaders, members of the media, and other cross-sector partners across the United States.

Fellows are placed within one of LPPI's functional departments: Communications, Research, Leadership Programs, Mobilization, and the Voting Rights Project. Over the course of 9 months, Fellows become integrated into their department's work, contributing to team projects while learning under the supervision and mentorship of LPPI full-time staff and affiliated faculty experts. In addition to hands-on, experiential learning, Fellows participate in regular paid professional development activities that expose them to Latinx policy experts, connect them to relevant academic and career resources, and provide targeted skill-building to accelerate their own leadership trajectories.

Alumni go on to shape policy-making through influential roles in both the public and private sectors, including academia, government, think tanks, and media organizations.

---

UCLA LPPI is a place where students like me can lean into our identities and experiences to create meaningful change.

Marcos Ruiz Rojas
Public Affairs Undergraduate Major

---

Eligibility Requirements

LPPI invites incoming and continuing UCLA students to apply for the Policy Fellowship. The program is open to both undergraduate and graduate students enrolled across UCLA schools and departments. There is no GPA requirement and students of all majors and class standing are welcome, however, students must be able to commit to:

Working 10-15 hours per week over the Fall, Winter and Spring Quarters
Completing the full 9-month program from mid-September to mid-June
Participating in Orientation in mid-September
Participating in cohort trainings and professional development sessions throughout the year, to be scheduled during work hours

The LPPI Policy Fellowship is open to AB540 students. Please see our FAQs for more information.

---

Benefits

The Policy Fellowship is an on-campus job that offers a unique opportunity to support applied policy research that advances meaningful policy change in the community. In addition to mentorship and access to leading policy influencers, Fellows receive competitive pay determined by their class standing.

Furthermore, graduate students who support LPPI research activities are classified as Graduate Student Researchers (GSRs), who are eligible for fee remission. To learn more about fee remission at LPPI, click here.

---

My work in this fellowship touches on issues that directly impact my family and others like mine.

Rocio Perez
Master of Public Policy Student

---

Application Timeline

LPPI launches its recruitment cycle for the Policy Fellowship in the Winter quarter, to identify candidates for the following academic year. Interviews take place in the Spring quarter and all final decisions and notifications are made before the end of the term. New Fellows will begin working for LPPI in the fall, after completing an initial Orientation and onboarding.

The Policy Fellowship application timeline for the 2022-23 academic year is listed below:

March 3, 2022  →  Application Opens – Click here to apply

March 31, 2022  →  Application Info Session – Click here to RSVP

April 4-5, 2022  →  Virtual "Office Hours" – Drop by between 4-5 pm for application assistance

April 12, 2022  →  Application Deadline – Apply by 11:59 pm PT

May 12 – 19, 2022  →  Interview Period

Applications are reviewed by a selection committee that includes supervisors from each of LPPI's functional departments: Communications, Leadership Programs, Political Mobilization, and Research. We expect to notify all candidates of the outcome of their application by June 3, 2022.

---

Info Session

---

How to Apply

New Fellows are selected through an application process that seeks to take into account the candidate as a whole. Our application process gives candidates the opportunity to showcase their guiding values, lived experiences, prior work history, academic strengths, leadership potential, and future goals.

To begin your application, click here. Applications and all supporting materials are due by 11:59 pm PT on April 12, 2022.

In addition to the online application form, your complete application must include:

SHORT RESPONSES. Please address each of the below prompts in 200 words or less.

What about LPPI's mission and work resonates with you the most?
What skills or experiences do you hope to contribute to the LPPI team as a Policy Fellow? What skills or experiences do you hope to gain?
How would the Policy Fellowship help you make progress toward your long-term career goals?

RESUME. A professional resume of no more than 2 pages.

UNOFFICIAL TRANSCRIPT. You can access your unofficial transcript via MyUCLA.
WRITING SAMPLE. Please include a 3-5 page writing sample from a prior research report, policy analysis or similar type of academic writing. You may submit an excerpt from a longer writing sample.

The above documents should be combined and saved as one PDF file labeled "LPPI-LastName_FirstInitial-Year." For example: LPPI-Sanchez_J-2022. You can use a free website like smallpdf.com to combine multiple documents into one PDF file.

The online application form will prompt you to upload your combined PDF file. If you have difficulty uploading your attachment or have other application questions, contact:

Juana H. Sanchez

Director of Programs, UCLA Latino Policy and Politics Institute

---

Frequently Asked Questions (FAQs)

What qualities do you look for in a fellow?

Beyond our minimum eligibility requirements, we look for candidates who are passionate about advancing U.S. Latino communities and who possess:

Strong time management and organizational skills, with the ability to prioritize multiple tasks and meet deadlines;
Excellent interpersonal skills, including effective verbal and written communication;
A positive attitude and adaptability within an entrepreneurial environment;
Familiarity with U.S. government systems and interest in policymaking processes; and
Interest in applied policy research and data analysis.

Each LPPI department prioritizes different skills and experiences that align with their areas of work. For instance, our Research department might prioritize prior research experience, command of Excel or familiarity with data analysis software. By contrast, our Communications team might prioritize strong social media and web design skills. Finally, our Voting Rights Project typically looks for UCLA students who have previously completed coursework on voting rights legal research (e.g., PP 296 or LAW 832).

The sample work projects described in Question #6 gives further insight into the types of skills that each department can utilize.

I do not identify as Latino – can I still apply to the LPPI Fellowship?

You do not have to identify as Latino/a or Latinx to be an LPPI Policy Fellow. LPPI values diversity of lived experiences, perspectives and skill sets as this diversity enhances our ability to effectively serve and advocate on behalf of U.S. Latino communities and other communities of color. All qualified applicants will receive consideration for employment without regard to race, color, religion, sex, sexual orientation, gender identity, national origin, disability, age or protected veteran status. For the complete University of California nondiscrimination and affirmative action policy, see: UC Nondiscrimination & Affirmative Action Policy.

Is the Policy Fellowship restricted to U.S. Citizens? Can I apply if I am undocumented?

We welcome and encourage undocumented immigrant students who have AB540 eligibility or a DACA work permit, as well as legal permanent residents. If you are an undocumented immigrant student and do not meet the AB 540 requirements or do not have an active DACA work permit, please contact us to explore ways we may accommodate your situation. Email us at latino@luskin.ucla.edu.

We regret that we are unable to sponsor international work visas at this time.

Will the 2022-23 Policy Fellowship program be virtual or In-person?

We anticipate returning to an in-person format for the 2022-23 academic year, public health conditions permitting. In the event of changing guidance from the University of California, UCLA, or the city and county of Los Angeles, however, we may need to adapt the program to a hybrid or virtual format.

Applicants should expect to be enrolled in residence at UCLA for the duration of the 2022-23 academic year and complete LPPI work projects in-person in our offices at the UCLA Luskin School of Public Affairs Building. The hiring committee may grant an exception to an applicant who has been accepted into and plans to complete a quarter off-campus, such as through UCLA Study Abroad, UCDC or UC Sacramento.

What is the time commitment?

Fellows are expected to commit 10-15 hours per week following the UCLA academic calendar. Fellows are not expected to work during winter and spring break, university holidays or other instances of office closure. Upon successful completion of the 9-month fellowship, Fellows may be invited to continue working with LPPI through the summer and beyond.

Work hours typically include such activities as: participating in one-on-one meetings with your supervisor or the LPPI Director of Programs; meeting with your project team; completing your assigned weekly tasks; staffing LPPI events, such as report webinars and forums; and participating in LPPI professional development trainings and networking opportunities.

What does the Fellowship experience entail? What type of projects do Fellows support?

At hiring, Fellows are placed within one of LPPI's functional departments (Communications, Research, Leadership Programs, Mobilization, or the Voting Rights Project) and are assigned a supervisor. Fellows work with their supervisors each quarter to complete a professional development plan that identifies their short- and long-term goals, specific work assignments and opportunities for growth.

Below are examples of recent Fellow projects by department:

Communications – Track media mentions and compile weekly press clips; update Excel databases of reporters and media contacts; create graphics on Canva and draft social media copy on HootSuite; prepare social media toolkits for LPPI events; perform updates to the LPPI website on WordPress; design email marketing campaigns on MailChimp; and support the development of opinion editorials and press releases.

Research – Perform literature reviews and prepare annotated bibliographies; co-author research reports and policy briefs; conduct fact-checking; format citations and ready publications for distribution; collect, code, and analyze qualitative data; support in survey design and analysis; support in interview and focus group designs; create and manage Excel databases; perform descriptive statistical analyses; create charts, graphs, and other data visualizations; and conduct analysis using Stata or R software.

Leadership Programs – Develop meeting agendas and facilitate trainings; design program evaluation surveys; create and deliver presentations; update databases; perform market research and environmental scans; prepare memos and briefing materials for event speakers; support fellowship recruitment activities; and manage program calendars.

Mobilization – Create and update legislative trackers; perform internet research on Latina judicial candidates and Latino/a gubernatorial appointments; conduct landscape scans of Latino-focused civil society organizations; perform stakeholder analysis on different policy issue areas and/or regions (e.g., health policy-focused stakeholders in California); support the planning and execution of LPPI webinars, convenings and forums;

Voting Rights Project – Conduct legal and policy research; support discovery proceedings for trial cases; draft memos synthesizing research findings; provide briefings to attorneys and VRP staff; and assist with trial preparations.

I am not a student at UCLA, can I still apply?

At this time, the Policy Fellowship is only open to UCLA students who are enrolled for the 2022-23 academic year. Newly admitted students who plan to matriculate in the fall 2022 term are eligible. Spring 2022 graduates who will not be taking coursework next academic year are not eligible.

How do I become an LPPI Policy Fellow?

To apply, please visit our application here: 2022-23 LPPI Public Policy Fellowship Application. Applications are due by 11:59 pm PT on April 12, 2022.

Where can I get assistance with my application?

Our current Fellows will host an application information session on Thursday, March 31, 2022 from 6-7 pm via Zoom. This information session will provide an overview of the fellowship, application process and provide tips for completing your application. Attendees will also have the chance to ask questions during the event. The information session will be recorded and made available here for those who are unable to attend.

In addition, our Fellows will host Virtual "Office Hours" via Zoom on Monday, April 4, 2022 and Tuesday, April 5, 2022 from 4-5 pm PT. Drop by to ask your questions! Not able to make it to Office Hours? Email our team at latino@luskin.ucla.edu.

I identify as an international student, am I eligible to apply for the fellowship?

Yes, international students who are F1 or J1 visa holders are eligible to apply. Please reference this page for more information: https://internationalcenter.ucla.edu/resources/working-on-campus.

Is the fellowship opportunity for the 2022-2023 academic school year, virtual or hybrid?

Given the evolving changes of university protocols, the fellowship is projected to be in-person for the majority of the year to help enhance learning, fully participate in staff meetings, and professional development

What kind of writing sample should I submit? Are there specific recommendations? 

The writing sample should be between 3-5 pages from a prior research report, policy analysis, or similar type of academic writing. You can submit an excerpt from a longer writing sample. For this component of the application, we are really trying to look for a demonstration of your ability to form an analytical argument using available evidence. Your writing sample should be written by you alone and is recommended that it has alignment to LPPI's mission.

Are students required to work during academic school breaks, including Summer? 

No. Students are not required to work during breaks, including the Summer but will have the option to do so if they are interested.

Are fellows considered if they plan to spend a quarter for Study Abroad, UCDC, and/or graduating early?

All fellows are expected to be available to work for the entire 2022-2023 academic school year, however exceptions can be made depending on the Department needs. We ask that during the application process, you are transparent with your situation so that we can move forward accordingly to ensure proper communication is made before entering the new school year.

I have another question that is not listed here. Who can I contact?

Please email us at latino@luskin.ucla.edu and we will direct your question to the appropriate member of our team.

If you have an issue submitting your application materials via our online form, please contact: Juana H. Sanchez, LPPI Director of Programs, juanahs@luskin.ucla.edu.