UCLA LPPI Puts a Spotlight on Latino Representation at Hispanics in Philanthropy Conference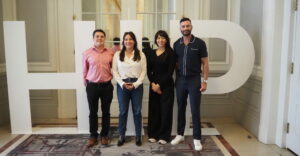 UCLA LPPI Team at HIP conference (from l to r): Director of Research Rodrigo Dominguez Villegas, Founding Executive Director Sonja Diaz, Deputy Director Lila Burgos, Director of Development Ricardo Quintero
Earlier this month, the UCLA Latino Policy & Politics Institute (UCLA LPPI) led two thought-provoking panels at the Hispanics in Philanthropy (HIP) 40th Anniversary Annual Leadership Conference. The panels specifically addressed Latino representation, showcasing the institute's broader efforts to ensure substantive Latino presence in influential roles in media, government, and society writ large.
The first panel underscored the critical role of democratic institutions and the significance of government appointments in enhancing the quality of life for Latinos and all Americans. The discussion highlighted UCLA LPPI's long-term commitment, including advocacy and targeted research, to promote increased consideration and selection of Latinos for executive appointments. Featuring UCLA LPPI Founding Director Sonja Diaz, Hispanas Organized for Political Equality CEO Helen Torres, UnidosUS Vice President Clarissa Martinez De Castro, and MALDEF President Thomas Saenz, the program provided an opportunity to discuss how appointed positions contribute to community empowerment and pave the road toward a democracy and economy that works for everyone.
"By focusing on the role of appointed positions, UCLA LPPI shed light on the untapped potential of communities of color to exert political power and hold our democracy accountable. Through cross-sectoral collaboration and philanthropic support, we can fortify a democracy that works for everyone, and foster a more inclusive and representative democracy where every voice is heard." said Diaz.
The second panel, led by UCLA LPPI Deputy Director Lila Burgos delved into the issue of underrepresentation faced by Latinas and other women of color in positions of power, aiming to highlight the challenges and opportunities facing these women. Panelists highlighted that Latinas often encounter hurdles not due to competency, but because of systemic issues, such as pay disparities and relegation to positions with limited power and influence that hinder their ability to lead and succeed.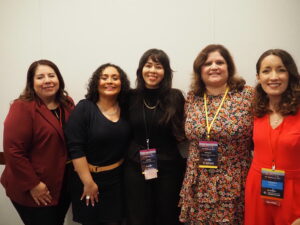 Erica Bernal- Martinez, Chief Operating Officer, NALEO Educational Fund ; Celia Lacayo, Associate Director of Community Engagement, UCLA ; Lila Burgos, Deputy Director UCLA LPPI; Helen Torres, CEO, Hispanas Organized for Political Equality (HOPE) ; Jean Guerrero, Columnist, LA Times 
Burgos emphasized this point, saying, "The struggle Latinas face is a delicate balancing act between self-care, familial obligations, and the unwavering determination required to defy the odds and persist in the fight for success."
The panel served as a milestone for the Latina Futures 2050 Lab as it begins its mission to ensure Latinas have the resources needed to succeed. In 2022, the California Legislature appropriated $15 million for a partnership between UCLA LPPI and the UCLA Chicano Studies Research Center to support policy research, leadership programs and civic engagement focused on Latinas.
The HIP Conference serves as an annual reminder that progress requires Latinos to be at every decision-making table. UCLA LPPI is carrying the work beyond the conference doors to build a country where no one is left behind.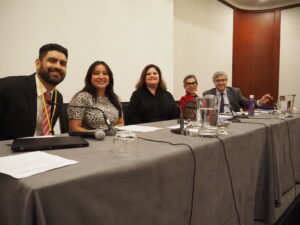 Raúl Macías, Program Director, Democracy, Evelyn and Walter Haas, Jr. Fund ; Sonja Diaz, Founding Executive Director, UCLA LPPI ; Helen Torres, CEO, Hispanas Organized for Political Equality (HOPE) ; Clarissa Martinez De Castro, Vice President, Latino Vote Initiative, UnidosUS ; Thomas Saenz, President and General Counsel, MALDEF