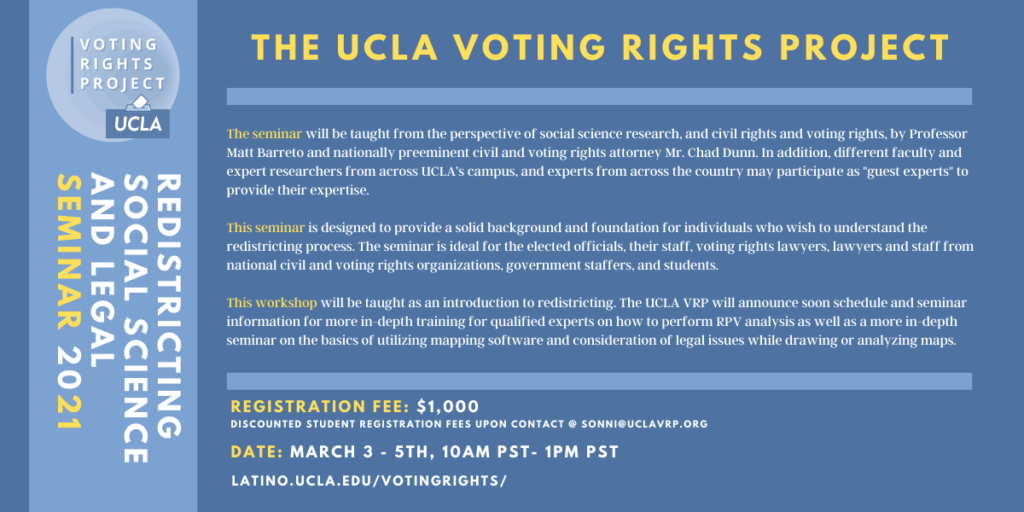 Event
→
Democracy & Voting Rights
Redistricting 101-UCLA VRP's Redistricting Social Science and Legal Seminar
The UCLA Voting Rights Project is introducing a new two-day training for redistricting on March 3rd and 5th from 10am PST to 1pm PST.
March 3rd and 5th, 2021 from 10am PST to 1pm PST. 
This seminar will provide attendees with:
A basic understanding of the processes and procedures used by most government agencies to receive public testimony and then craft, debate and adopt revised electoral district maps upon release of the data from the decennial census;

A basic understanding of the legal requirements for districts under federal law;

Discussion of state level redistricting rules applicable in many states;

Discussion of commonly adopted traditional redistricting principles;

Introduction to Social Explorer—a useful tool for persons engaged in the redistricting process;

An overview of how to roughly observe the existence of Racially Polarized Voting (RPV);

Basic skills to analyze district maps for possible vote dilution effect;

Beginner map drawing skills in Maptitude or similar districting GIS program.
For more information, email Sonni at Sonni@uclavrp.org